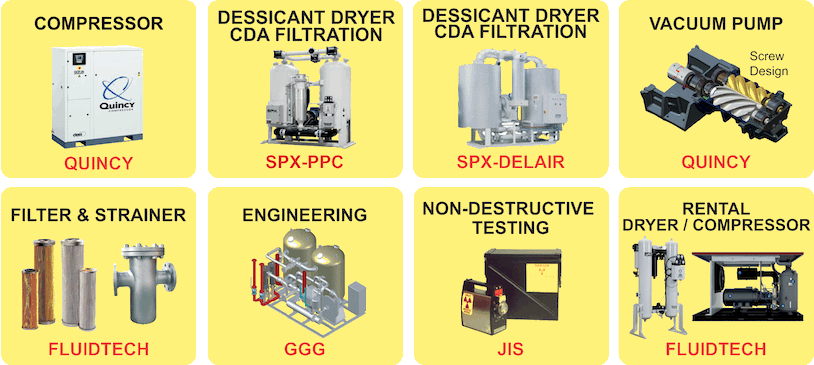 FLUIDTECH was established in 1985 marketing a wide range of Fluidtech products and servicing SPX-PPC (Pneumatic Products Corporation) air dryers & filters in South East Asia. Since then, Fluidtech has service reputable industrial brands like Quincy, SPX-Delair, JIS and GGG Engineering.
SPX-PPC and SPX-DELAIR are the world leading manufacturers of compressed air/gas dryers & filters for semiconductors & electronics industries and oil & gas industries while Quincy Compressor is undeniably the world's finest compressors and vacuum pumps.
FLUIDTECH also market a wide range of filters & strainers, both coarse and fine, and are used in various industries such as oil & hydraulic, semiconductor, electronics, food & beverage, chemical, oil & gas, bulk gases and in the general industries.
FLUIDTECH is also involved in piping installations, pressure vessels fabrication, off-line cleaning, filters modification, non-destructive testing, engineering inspection and heat treatment.
Brands distributed, engineered and serviced as distributor are:
| | |
| --- | --- |
| | QUINCY Compressors (USA / China) |
| | SPX-PPC Dessicant Dryers & CDA Filtration (USA / Europe) |
| | SPX-DELAIR Dessicant Dryers & CDA Filtration (Europe / USA) |
| | QUINCY Vacuum Pumps (USA / China) |
| | FLUIDTECH Filters & Strainers (USA / Korea / China / Malaysia / Australia) |
| | GGG Engineering (China / Malaysia / Singapore / Korea) |
| | JIS Non Destructive Testing (Singapore / Malaysia) |
| | FLUIDTECH Rentals of Compressors, Dryers & Filters (USA / China / Malaysia / Singapore) |
Singapore Office
FLUIDTECH SINGAPORE PTE LTD
10, Ubi Crescent,
#02-88 Ubi Techpark,
Singapore 408564
Tel : (65)-68426800
Fax : (65)-68426822
Email: office@fluidtech.com

Malaysia Office
FLUIDTECH MALAYSIA SDN BHD
26, Jalan U1/48, Temasya Industrial Park,
Glenmarie, 40150 Shah Alam,
Selangor D.E., Malaysia.
Tel : (60)-3-55698822
Fax : (60)-3-55698833
Email: office@fluidtech.com